This week, it dawned on me.
I've felt rotten about 75% of the time during the last decade or so.
During the past two weeks, I've begun making some major changes in diet and supplements, and I feel soooooooo much better. I have more energy, clearer thinking, motivation, and a positive outlook.
Funny how you don't really know how bad you feel until you feel well.
Creeping weight gain, migraine headaches, depression, irritability, sleep issues, achy joints, thyroid issues, sugar cravings—all of these things have characterized the last few years of my life.
Finally, a couple of weeks ago I went to a new doctor who specializes in chiropractic and holistic medicine. I was blown away at all the testing he did on me. He discovered that, indeed, I have some functional issues, as well as nutritional deficiencies. He also found that I have some sensitivities to gluten and should begin going gluten free.
It's not going to be easy, but since I'm already feeling better, I'm encouraged to keep going.
We've been coasting on auto-pilot the last few years. It's easy to just do the same ole thing every day. You're in the groove; it's familiar, and it gets the job done. And when you feel rotten anyway, it makes it even harder to expend the energy to do something different. It's all a self-perpetuating cycle.
Earlier this year, we began using Young Living Essential Oils, and I'm learning as much as I possibly can about them. I'm seeing a chiropractor and taking new nutritional supplements. I'm revamping our menus and pantry to go gluten free, and I've given up all carbonated beverages for Lent.
If you don't feel "quite right," I highly encourage you to seek out alternative therapies and consider changing your diet. It's amazing how your whole life and outlook shift when you physically feel well. Also, check out essential oils and how they can help you. And join me here as we take the journey together! Yummy gluten free recipe below!
~~~
Are you gluten free? What are some tips you can share with me? Let me know in the comments.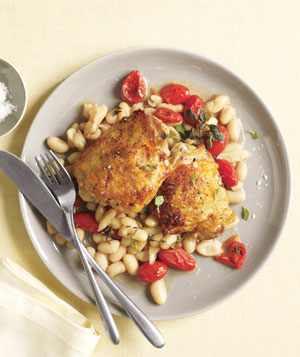 Chicken With White Beans and Tomatoes from Real Simple
(my revisions are in blue italic)
Ingredients
2 15.5-ounce cans cannellini beans, rinsed
1 pint grape tomatoes (or one can of diced tomatoes)
4 sprigs fresh thyme (or 1 tsp. dried thyme – or to taste)
4 sprigs fresh oregano, plus leaves for garnish (or 1 tsp. dried oregano – or to taste)
2 garlic cloves, smashed
1/4 teaspoon crushed red pepper
2 tablespoons olive oil
kosher salt and black pepper
8 bone-in, skin-on chicken thighs (about 3 pounds total) (or boneless, skinless thighs)

1 cup shredded mozzarella cheese
Directions
Heat oven to 400° F. In a 9-by-13-inch (or some other large) baking dish, toss the beans and tomatoes with the thyme and oregano, garlic, red pepper, 1 tablespoon of the oil, ½ teaspoon salt, and ¼ teaspoon black pepper.
Place chicken on top of the bean mixture. Rub with the remaining tablespoon of oil; season with ½ teaspoon salt and ¼ teaspoon black pepper.
Roast until the chicken is golden and cooked through, 35 to 45 minutes.
Sprinkle mozzarella cheese on top of hot chicken and allow it to melt.
Tip
For even richer flavor, add 1/2 cup dry white wine to the bean and tomato mixture before cooking.