Thanks for downloading A Different Christmas This Year: Easy Family Worship Activities to Make the Season More Meaningful. Tell me, what did you like about it? How are you using it with your family? How has it helped make your season a little less hectic and a bit more meaningful? Go to the Contact page and let me know! 
Would you like

a FREE BOTTLE of Christmas Spirit

essential oil blend to use with your family this Advent and Christmas season? 
Young Living essential oils both enhance your family worship time and benefit your health and wellness.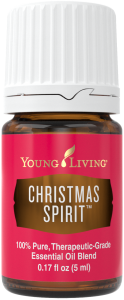 As I mentioned in the book, these are some of our family's favorite Christmastime essential oils:
Frankincense
Myrrh
Cinnamon Bark
Orange
Clove
Thieves blend
Christmas Spirit blend
Citrus Fresh blend
Cedarwood
Pine
Evergreen Essence
If you'd like to order any (or all!) of these oils, you can do so in 2 ways:
Open a Retail Customer account. There's no fee to open or minimum purchase. Click here to open a retail account. You'll shop at the retail price point and have the convenience of ordering anytime you like online.
Open a Wholesale Member account. This is BY FAR the best cost savings in the long run! You'll become a wholesale member and save 24% off the retail price. When you join with a Premium Starter Kit (cost varies, based on the type of diffuser you choose, but starts around $160), you get 11 bottles of oil, samples, and a diffuser! You save hundreds of dollars, PLUS you'll get Frankincense, Thieves and citrus oils. Click here to open a wholesale account.
AND …
If you open a wholesale account by December 20, 2016, I'll give you a FREE BOTTLE OF CHRISTMAS SPIRIT essential oil! 
Questions? Email me at mary [at] writingmomof3 [dot] com or go to the Contact page.
I hope you have a very Merry Christmas and a Happy New Year!