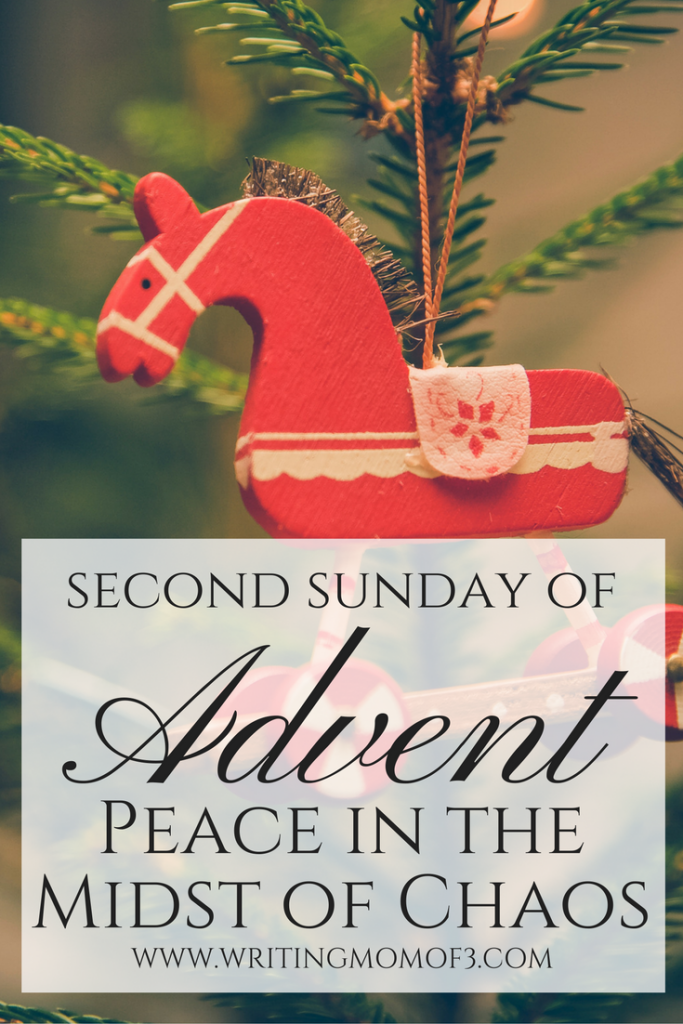 It's not even December as I write this, but our holiday season has taken off like a rocket ship launched into outer space. This week alone, we have daily wrestling practice, soccer practice, two wrestling matches, two basketball (cheer) games, cheer practice, dance class, youth group, band practice, all-day band event at school, and a soccer game. That doesn't even include dental appointments that I had to cancel because who has time for oral hygiene and dental care?
Chaos. How, why are our lives so crazy? How in the world do we even enjoy Christmas?
We did get our decorations up this weekend, which was a fun family activity, plus I have a slew of cheesy Christmas Hallmark movies on the DVR recorded from the free cable on Thanksgiving weekend. Those things do help bring a sense of calming to an otherwise insane week at our house. (Of course, who has time to watch movies? Maybe I'll get through them before Easter.)
The other thing we aim to do is light our Advent wreath and have a brief time of family worship most nights of the week. I've also subscribed to receive a daily Advent prayer from one of my church's pastors. You can sign up, too, if you like. Click here.
It's hard to stay on track and out of the insanity this time of year. It is super-hard — not gonna lie. But it is our goal.
This coming Sunday is the second Sunday of Advent. On this Sunday, we will focus on the Angels' announcement of Jesus' birth and will light the Candle of Peace. Here's an example of a brief time of family worship you can share with your family:
Second Sunday of Advent: The Angels

Gather around the Advent wreath. Explain that the term "host" in verse 13 is a military term, referring to an army of sorts. Verse 13 describes the announcement as being delivered by a "heavenly host." Discuss for a moment what images come to mind when we think of the military or army. Next, ask the family to talk about the significance that an "army" would deliver news of peace and joy.

Why does the Angels' announcement give us peace?

Advent Sunday #2: Candle of Peace
Read Luke 2:8-13 and light the first and second purple candles: "And the angel said to them, 'Fear not, for behold, I bring you good news of great joy that will be for all the people. For unto you is born this day in the city of David a Savior, who is Christ the Lord.'"(Luke 2:10-11 ESV)

excerpt from A Different Christmas This Year
Want more ideas for celebrating Advent and Christmas with your family? Download my free eBook, A Different Christmas This Year.
What are your best tips for a stress-free, Christ-focused Christmas?