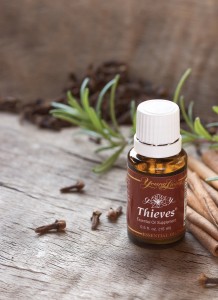 I love school. I do. I always have. I'd be in school right now, getting another degree in something if time and money would allow.
But I must say that RE-living school through my children's projects borders on torture. I straddle that line of trying to be helpful and guide them so they will develop excellent study skills and here-let-me-do-that-so-we-can-just-get-it-done-already.
The latest project in the parade of projects, however, was for the sixth grade science fair. And after the late nights and head scratching and double-sided tape fiascos, it actually proved interesting.
While some kids were sticking wires in potatoes and such, my 11-year-old wanted to focus on germs in dirty bathrooms. Specifically, she wanted to test my beloved essential oils against chemical household cleaners. Yes! I was hooked. I wanted to know, too, just how well Young Living's Thieves essential oil blend performed when placed side by side against Clorox Bleach and Lysol bathroom cleaner.
Disclosure: I am not a medical doctor. Any statements made on this blog about essential oil use are not meant to treat, diagnose, or cure any condition. My statements about essential oils are my opinion and are based upon my own experiences and research.
I occasionally feature affiliate links in my blog posts. Should you follow my link and make a purchase or join a membership website, I will be compensated for my referral.