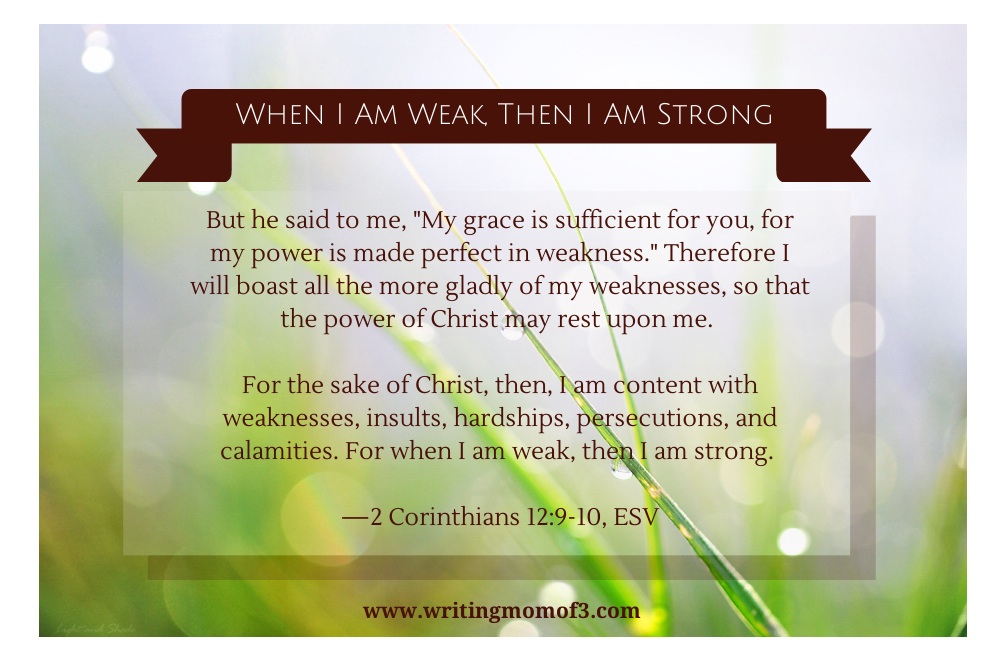 Something woke me in the middle of the night. It had been a few days since we found out that my husband was unemployed—with an increasingly sinking account balance and no immediate prospects for a job.
As I tossed a bit and tried to get comfortable in another sleeping position, the thought came booming through, out of nowhere.
I am powerless. Powerless.
And a feeling of vulnerability and weakness washed over me.
In the next thought, though, I reassured myself that powerless was exactly what I should be.
It's strange to be there—in that moment of paradox. Utterly dependent yet completely confident. Scared to death and perfectly at peace.
Weak yet strong.
9 But he said to me, "My grace is sufficient for you, for my power is made perfect in weakness." Therefore I will boast all the more gladly of my weaknesses, so that the power of Christ may rest upon me. 10 For the sake of Christ, then, I am content with weaknesses, insults, hardships, persecutions, and calamities. For when I am weak, then I am strong. —Romans 12:9-10, ESV
Disclosure: I am not a medical doctor. Any statements made on this blog about essential oil use are not meant to treat, diagnose, or cure any condition. My statements about essential oils are my opinion and are based upon my own experiences and research.
I occasionally feature affiliate links in my blog posts. Should you follow my link and make a purchase or join a membership website, I will be compensated for my referral.