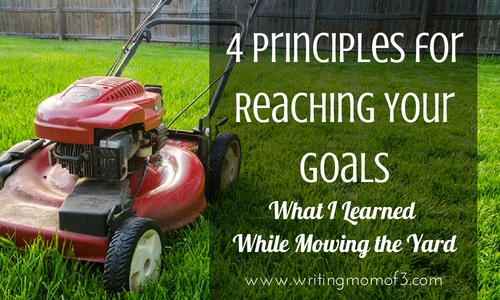 A few weeks ago, I decided to surprise my husband when he came home from work.
No, no. It was nothing romantic and didn't even involve his favorite meal.
What brings a smile to my man's face and a "Wow, honey!" to his lips?
Our yard—freshly cut.
That's right. I mowed the yard.
Now, I'm no stranger to mowing the yard. I grew up on a farm where our yard was three huge grassy areas. I have mowed my share of yards. I have logged my time on mowers—both riding and push.
But it's been oh, several years now that I've done yard work. And it's sort of an understatement to say that I'm out of shape.
These realities did nothing, however, to quell my zest for getting work done! For surprising my hubby! For feeling productive!
Disclosure: I am not a medical doctor. Any statements made on this blog about essential oil use are not meant to treat, diagnose, or cure any condition. My statements about essential oils are my opinion and are based upon my own experiences and research.
I occasionally feature affiliate links in my blog posts. Should you follow my link and make a purchase or join a membership website, I will be compensated for my referral.