Disclosure: I received a complimentary lunch at Zoe's Kitchen in exchange for a review on social media. All opinions are my own.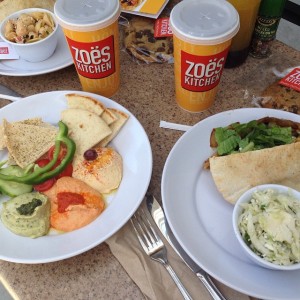 Can your family afford to eat out? For our family of five, dining out is super-expensive. Unfortunately, we have limited options within our budget that would qualify as "good food." Even a fast food meal for us totals in the $30-$40 range. That's why I was so excited to learn about Zoe's Kitchen's new Mediterrean Family Meals.
For that same $30 – $40, our family can eat a much healthier and much fresher meal at Zoe's. Plus there's a LOT of food in a meal—hopefully enough for leftovers for lunch the next day.
Disclosure: I am not a medical doctor. Any statements made on this blog about essential oil use are not meant to treat, diagnose, or cure any condition. My statements about essential oils are my opinion and are based upon my own experiences and research.
I occasionally feature affiliate links in my blog posts. Should you follow my link and make a purchase or join a membership website, I will be compensated for my referral.