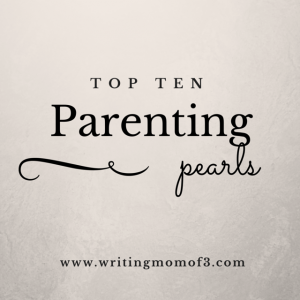 Recently, a friend asked me to share my top ten list of parenting "pearls"—you know, those ten phrases you're saying over and over again; those most important things you're always praying about or discussing with your spouse.
It was actually harder than I thought it would be. So much of parenting is intuitive and boiling down my "pearls" to a list of ten was helpful for me to see exactly where my parenting is currently. I definitely want to continue emphasizing those parenting areas where we've been.
But looking over the list also showed me a few areas where I want to address more intentionally, too.
Disclosure: I am not a medical doctor. Any statements made on this blog about essential oil use are not meant to treat, diagnose, or cure any condition. My statements about essential oils are my opinion and are based upon my own experiences and research.
I occasionally feature affiliate links in my blog posts. Should you follow my link and make a purchase or join a membership website, I will be compensated for my referral.