I have a love-hate relationship with breastfeeding—especially breastfeeding twins. It's been nine years since I nursed an infant (or two), but I still remember all the emotion involved with it.
First—a disclaimer:
Breastfeeding can be hard, and it can be a difficult transition for moms. Please, please, please don't beat yourself up if you aren't able to breastfeed your baby(ies) and/or if you choose not to. While it is a great and wonderful way to feed your baby (ies), it does not make one a superior mother or more holy than another.
This post is not to condemn or elevate anyone's choice of how to feed her child(ren). It is simply meant to offer encouragement and some practical tips for expectant moms of multiples who may be wondering, "Is it even possible to breastfeed twins successfully?"
And now that I've gotten that off of my chest, I continue.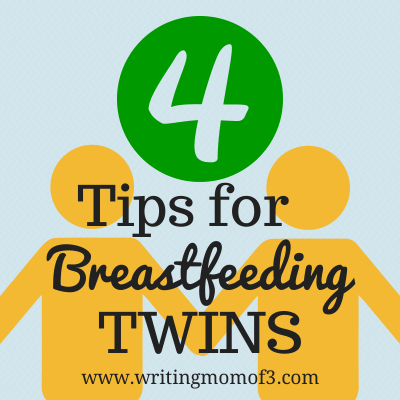 With my first baby, learning to breastfeed was a bumpy start. Once we got the hang of it, we were fine. She nursed until she self-weaned around 8 months.
When I found out I was expecting twins, I researched all I could about breastfeeding them. I was determined to give it a good faith effort, but I had extremely low expectations. Let me repeat that: extremely. low. expectations. With a two-year-old still in diapers, I knew that breastfeeding two babies at the same time would certainly have its challenges.
Unbelievably, we made it until they, too, self-weaned around ten months.
Are you expecting twins? Do you wonder if you could successfully breastfeed them? From my experience, I offer four tips.