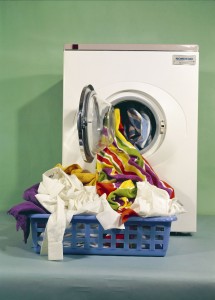 Doing laundry drives me a little bit crazy.
Tell me you get this. I mean, we wash, we wear, we wash, we wear. Over. And over. And over again.
The monotony of household chores, in general, bores me to tears. More than once, I've raised my hands to God to say, "Why? Why the same thing over and over?"
My family members, especially, are not good stewards of their dirty laundry. They do not alert me to stubborn stains. They do not separate whites and colors as they stack dirty clothes in piles. My daughter often wears layers and pulls everything off at once, leaving me a tangled mess to unravel at the washer—socks and inside-out pants, underwear, tanks, and tees. And my husband rolls up all his dirty clothes at once into a ball. I have often found a surprise black sock in a load of whites because it was tucked into an undershirt.
Disclosure: I am not a medical doctor. Any statements made on this blog about essential oil use are not meant to treat, diagnose, or cure any condition. My statements about essential oils are my opinion and are based upon my own experiences and research.
I occasionally feature affiliate links in my blog posts. Should you follow my link and make a purchase or join a membership website, I will be compensated for my referral.