Disclosure: I received a complimentary lunch at Zoe's Kitchen in exchange for a review on social media. All opinions are my own.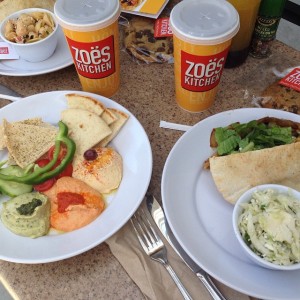 Can your family afford to eat out? For our family of five, dining out is super-expensive. Unfortunately, we have limited options within our budget that would qualify as "good food." Even a fast food meal for us totals in the $30-$40 range. That's why I was so excited to learn about Zoe's Kitchen's new Mediterrean Family Meals.
For that same $30 – $40, our family can eat a much healthier and much fresher meal at Zoe's. Plus there's a LOT of food in a meal—hopefully enough for leftovers for lunch the next day.
My friend and fellow blogger, Blonde Mom Blog, and I were lunch guests at the newest Zoe's location in Belle Meade. This restaurant is only about 15 minutes from my house and is "on the way" back and forth to our church. It's going to be a frequent stop for us, I know.
I have loved Zoe's for many years, so it was a special treat to enjoy my favorite Greek Chicken Pita with the Marinated Slaw (with feta cheese!) as a side. We also got to try the Hummus Trio. I loved all three of the hummus flavors, but I think the Red Pepper hummus was my favorite. Dessert was a delicious oatmeal raisin cookie. Of course, I liberally doused it all with Zoe's Greek Dressing (oh – but not the cookie!). I could take a bath in that dressing I love it so much.
Zoe's food is fresh and delicious, made on the premises with natural ingredients. Zoe's is more than a salad place, too. Their salads are to die for, but they also offer kabobs, rice pilaf, pitas, pizza, white beans, pasta salad, and roasted veggies. They have a kid's menu and offer vegetarian, vegan, and gluten-free options.
The Belle Meade location has a beautiful patio for outdoor dining and they are planning to serve beer and wine soon, as well.
I can't wait to stop by Zoe's Kitchen one afternoon to pick up a meal for the family. It's definitely going to be my first choice for affordable "take-out."
Help So You Can Afford to Eat Out With Kids
Here are a few more options for discount dining in Nashville. I purposely omitted fast food restaurants with one exception—Chick-fil-A. These are specific to the Nashville area. To find more meal deals where you live, check out the Kids Meal Deals website and mobile app. And before you head out, it's a good idea to call ahead to make sure the restaurant is still honoring the meal deal.
I'd love to hear about your favorite discount dining tips!
What are your favorite restaurant meal deals?
---